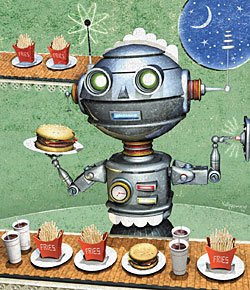 In an age of plentiful refrigeration and high tech packaging it is possible to purchase a wide range of pre-made, pre-cut, pre-processed ingredients and even complete meals, ready to serve. In this post we look at some of the pro's and con's of purchasing pre-prepare ingredients/meals.
Pro's of Out-sourcing
Reduce labor. Suitably experienced staff are difficult to find and expensive to keep. With pre-prepared ingredients/meals it is possible to produce more meals with less staff.
Reduce production space requirements
Reduce amount of equipment required
Con's of outsourcing
Higher food costs
Less control over quality
Increased reliance on external suppliers
Out-sourcing may stack-up, depending on your business model.