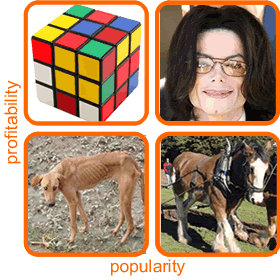 Engineering is not a term used frequently in the context of the food industry.  Simply put "engineering" is about appling technical, scentific or mathmatical knowledge to get a desired outcome.
Menu Engineering is about taking a more structured approach to building and monitoring a menu.
There are two key measures required for Menu Engineering: the Contribution and Popularity of each Menu Item.
Contribution is the amount of money we make from a Menu Item.  Assuming we have costed recipes, Contribution is calculated by subtracting the recipe cost from the sale price.
Populatrity is the number of a Menu Item sold in a given period as compared to other Menu Items.  The sales numbers can be based on actual results from a point of sale  system, or estimated/forecast sales.
Menu Items can be classified into the following groups using Contribution and Popularity:
These classifications provide a structured approach to plan, monitor & review menus.